There are times when you look at a movie and you are amazed how much the actors who play parent-child couples resemble each other. Or, when the main character is seen in their youth and in their elder years and the actors seem to be clones. Well, sometimes the directors are fortunate enough to be able to use real-life parent-child couples for such roles. Here are 11 movies where celebrities starred next to their real-life children.
1. The Big Bang Theory, 2007 and Young Sheldon, 2017 – Laurie Metcalf and Zoe Perry Metcalf and Perry took the role of Mary Cooper, Sheldon's mother, in Big Bang Theory and Young Sheldon, playing the same character at different ages. The mother-daughter duo also starred together in Roseanne.


2. Kiss kiss bang bang, 2005 – Robert Downey Jr. and Indio Falconer Downey The charming Robert Downey Jr. has an equally charming son, who joined his father in Kiss Kiss Bang Bang, as the young thief Harry Lockhard.


3. Orange is the new black, 2013 – Dascha Polanco and Dasany Kristal Gonzalez The mother and daughter took the role of Dayanara Diaz, playing it at different ages and leaving the viewers puzzled at their resemblance.
4. Underworld: Evolution, 2006 – Kate Beckinsale and Lily Mo Sheen While Beckinsale was playing Selene, her daughter played the younger version of the character. The movie was a sort of family gathering, as Michael Sheen, the father of Lily Mo also played a role, performing as the leader of the Lycans.


5. Striptease, 1996 – Demi Moore and Rummer Willis Rummer Willis, the eldest daughter of Demi Moore and Bruce Willis, is now a talented young woman. When she was a child, she starred in the movie Striptease, next to her mother, playing her mother's daughter.


6. That's my boy, 2012 – Susan Sarandon and Eva Amurri Eva Amurri inherited her mother's talent and is often seen starring alongside Sarandon. Amurri played her mother's younger version in That's my boy, as young Mary McGarricle. She also played her mother's younger version in Dead man walking, taking the role of young Sister Helen.


7. Head full of honey, 2014 – Til Schweiger and Emma Schweiger Til and Emma Schweiger play the roles of a father-daughter duo in the movie Head full of honey. Another daughter of Schweiger joined him in Tschiller: Off duty, also playing her father's character's daughter.


8. Evening, 2007 – Meryl Streep and Mamie Gummer The main character in Evening is played by mother-daughter duo, Meryl Streep and Mamie Gummer. Mamie inherited her mother's look and talent, which made the movie a real delight to watch.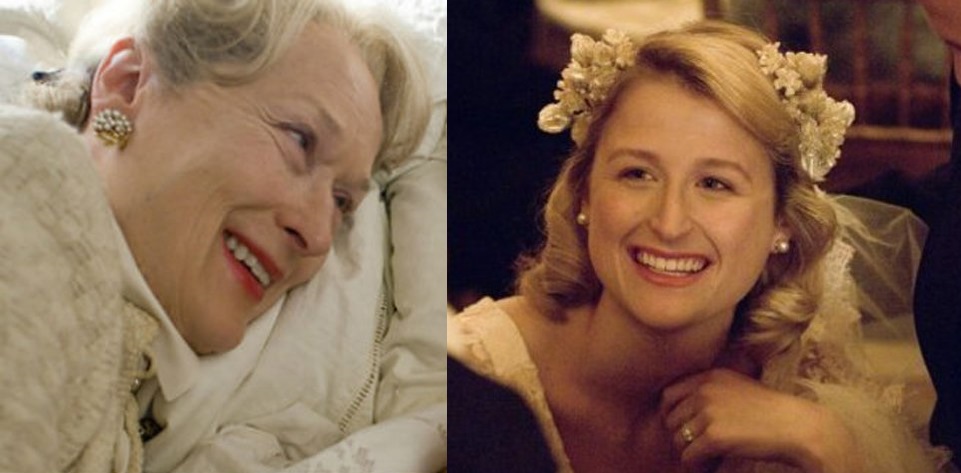 9. The Heartbreak Kid, 2007 – Jerry Stiller and Ben Stiller The father and son played the role of a father-son couple in The Heartbreak Kid, showing that acting talent is inherited. Nowadays, older Stiller retired from acting, but his son is carrying on the family business. The duo starred together as father-son in multiple movies.
10. After Earth, 2013 – Will Smith and Jaden Smith The Smith family is very talented – that's for sure! Will Smith and his son Jaden played a father-son duo in After Earth and in The Pursuit of Happiness. The two actors were brilliant at depicting the natural dynamic of a father-son relationship in both movies.


11. It Runs in the family, 2003 – Kirk Douglas, Michael Douglas and Cameron Douglas The title of the movie couldn't have been more appropriate for the Douglas clan: the talent runs in their family on three generations. In this movie we can see the three men playing a grandfather, father and son trio, just like they are in real life. The wife of Kirk Douglas also plays in this movie.